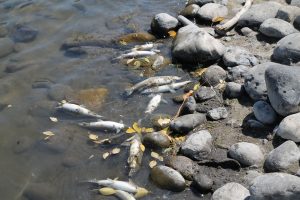 This morning Montana Fish, Wildlife and Parks took the unprecedented action of closing over 200 miles of the Yellowstone River from Gardner to Laurel to "all water-based recreation" in response to a die-off of thousands of mountain whitefish over the past week. 
MFWP is attributing the fish kill to the parasite Tetracapsuloides bryosalmonae, the cause of proliferative kidney disease which can be up to 100% fatal in salmonid populations. The outbreak has the potential to move to other salmonid species in the Yellowstone and to devastate the popular fishery throughout the river.
In a press release this morning, MFWP said;
Test results from samples sent to the U.S. and Wildlife Service Fish Health Center in Bozeman show the catalyst for this fish kill to be Proliferative Kidney Disease – one of the most serious diseases to impact whitefish and trout. The disease, caused by a microscopic parasite, is known to occur in Canada, the U.S. and Europe. It has been documented previously in only two isolated locations in Montana over the past 20 years. Recent outbreaks have occurred in Washington, Oregon and Idaho. In trout, research has shown this disease to have the potential to cause 20 to 100 percent mortality. The parasite does not pose a risk to humans.

The effect of the disease on Yellowstone's fish populations is exacerbated by other stressors like near record low flows, consistent high temperatures, and the disturbance caused by recreational activities.
The investigation is still ongoing. FWP has set up Aquatic Invasive Species decontamination stations near the area to prevent the unintentional movement of the parasite to other areas of Montana.
There is evidence that the parasite is more deadly at warmer water temperatures above 60 degrees Fahrenheit.  The USGS gaging station at Corwin Springs showed a water temperature of 62 degrees this morning.
Montana Trout Unlimited commented on the closure;  "In addition to the very serious worry of moving this deadly parasite to other waters, this closure will help reduce stress on the fishery and, hopefully, help reduce the number of fish susceptible to the parasite." and MTU advised anglers, 
IF YOU HAVE BEEN ON THE YELLOWSTONE OR ITS TRIBUTARIES RECENTLY, PLEASE CLEAN ALL OF YOUR GEAR THOROUGHLY!