Sheppard Creek Brook Trout Suppression, Bull Trout eDNA Surveys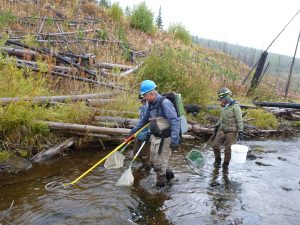 Flathead Valley TU Chapter has assisted with the Sheppard Creek project since 2001. This little cutthroat trout population located in the Salish Range on the Tally Lake Ranger District is still hanging on but we have to manually remove the brook trout regularly.
The brook trout suppression project will go from Monday September 11 through Thursday September 14. We will meet each morning at the Forest headquarters in Kalispell (by the Glacier High School) at 8:30 and then again at the Rest Area beside Grouse Mountain Lodge in Whitefish at 9am. Volunteers can get a ride in our trucks to the stream. Volunteers need to bring their lunch, water and hip boots/waders. Plan on a full day with a bit of hiking and we will be back to civilization around 4:30 each afternoon. No prior experience necessary. Anybody with a valid fishing license is welcome to keep some brook trout for dinner.
Please contact Forest Service Fisheries Biologist Beth Gardner at 837-7508 or at bgardner@fs.fed.us if you can lend a hand.
_____________________________________________
Another project our Chapter is working on involves conducting eDNA surveys to help verify the range of the threatened bull trout. eDNA is a remarkable new technology used to detect what species are in a given body of water. Our chapter will be sampling the Swift Creek and Upper Stillwater River to help determine bull trout distribution.
Exact dates of the sampling are still to be determined but the sampling will occur over the next couple of months. If interested, please contact Chapter President Larry Timchak at 250-7473.
Thanks and good fishing!
Larry Timchak
President
Flathead Valley Trout Unlimited
ltimchak1@gmail.com