---
 Yep, it's that time again. The ever-exciting Montana Sportsman's Expo is coming to to the Flathead County fairgrounds in Kalispell Feb. 24-26, 2017. 
Flathead Valley Trout Unlimited will have a booth at the event. We will be tying flies, helping with teaching fly casting, telling stories about big fish (some true, some not) and generally having a grand time. If you would like to join in the fun, we could use some help with manning our booth during the show. If you can spare a couple of hours or more over the weekend, be sure to sign up at our Sportsman's Expo page. 
We know you'll have a good time and you can learn more about Flathead TU, our mission and our great volunteers. See you at the EXPO!
---
 
New bull trout website from our pals at the Panhandle Chapter over in Sandpoint, ID
Get lots of good information on bull trout, native fish and fishy happenings in Northern Idaho. Also, don't forget, the annual Trout and About festival for kids every August in Sandpoint.  The Festival features live music, food and fun for the kiddies.  There are also trout-related games, education, raffles, and giveaways. Save the date! You can get more information on the Take No Bull website.

---
Alert: All Flathead River Anglers
When the 2016 Montana Fishing Regulations booklet was printed many people noticed an important omission. "Catch-and-release for cutthroat trout" was missing from the mainstem of the Flathead River rules. The regulation has not changed, this is just a mistake in the regulation booklet. Montana Fish, Wildlife and Parks was alerted to the omission and has begun a publicity campaign to make sure that everyone knows that the mainstem Flathead River from the confluence of the North and Middle Forks downstream to Flathead Lake remains catch and release for all cutthroat trout.
As of today (March 7) signs such as the one shown will be posted at all public access sites to remind anglers of the proper regulation. FWP will also notify anglers through local media outlets and there may be an errata sheet printed for the 2016 regulation booklet. Please let your friends and fellow anglers know that there has been no change and the the Mainstem Flathead River remains catch-and-release for all cutthroat trout.
If you have any questions about fishing regulations in the Flathead, please contact MFWP Fisheries Manager Mark Deleray at Montana Fish, Wildlife and Parks (406) 751-4550 mdeleray@mt.gov. Thanks for your help on this issue.
---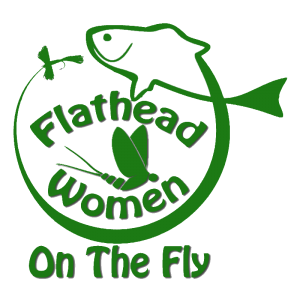 Don't forget to join Flathead Women on the Fly for their monthly fly tying night and other activities on the second Tuesday of each month. Contact Kim at 406-885-3228 for the next event. Check out their Facebook page or visit their exciting website at; flatheadwomenonthefly.com
FWOTF is a group of women who like to fly fish and those who would like to learn fly fishing skills. It's about fun, support, community and learning. Watch for updates on their Facebook page and on their upcoming website.
---
Catch and Release – It only makes sense
Flathead Valley Trout Unlimited produced the following short video public service announcement on proper Catch and Release techniques.

If you would like to use this video in either 30 or 60-second versions, you can download the following files;
If you would like HD versions of either video, please contact Flathead TU
---
Illegal Introductions: Stupid people do stupid things.
Whether it is Smallmouth bass in Seeley Lake, Walleye in Noxon Reservoir and Swan Lake, Perch in Rogers Lake, or Northern Pike in the Stillwater Lakes, illegal fish introductions in Montana's waters do irreparable harm to our state fisheries. Montana has documented 600 illegal introductions of fish in 300 of Montana's waters. More than 25% of those incidents have occurred in the past 10 years. Recently, Montana Fish, Wildlife and Parks introduced new rules for dealing with unlawful bucket biology. Offenders are now liable for a fine of $2,000 to $10,000 and can be made to pay the cost of remediation, which can run to hundreds of thousands of dollars.
The new rule requires FWP to investigate reports of unauthorized fish plantings within 30 days of learning about them, followed by an action plan to deal with the introduction. Flathead Valley TU supports the intent and implementation of these new rules and encourages the public to be aware of illegal actions that can drastically hurt our fishing opportunities. A recent article in the May-June issue of Montana Outdoors Magazine highlights the damage that these stupid people are inflicting on our precious fisheries resources.
Montana Trout Unlimited along with its affiliated statewide chapters have offered a reward of up to $10,000 for the arrest and conviction of anyone illegally dumping fish into our waterways to help stem the increasing tide of illegal introductions. Along with the TU reward, other angling organizations have put up an additional $4,200 and the Montana TIP-MONT program will chip in another $1,000. Altogether, you could be eligible for more than $15,000 for your help in catching and convicting unlawful bucket biologists. The money will be available through  FWP's TIP-MONT program
"Ten thousand dollars is a lot of money, but when you consider lost fishing opportunities, economic cost to local communities and the cost of getting rid of invasive species, this is an important investment," said Montana TU Conservation Director Mark Aagenes.
It's time to get tough on those few jerks who think they can better manage our fisheries through unlawful actions than can our professional resource managers. These selfish folks need to understand that there are serious consequences to their actions. Please support the new bucket biology rules by reporting these criminals.
---

Flathead Valley Trout Unlimited is currently supporting the Confederated Salish and Kootenai Tribes in their effort to reduce the overabundant population of lake trout in Flathead Lake in order to benefit native fish species and enhance the fishery in the Flathead River system. The CSKT published a final Environmental Impact Statement on their plan to suppress the lake trout population in Flathead Lake using a variety of methods and strategies that support the Co-Management plan developed by CSKT and the Montana Department of Fish, Wildlife and Parks.
Read the CSKT Final EIS: Proposed Strategies to Benefit Native Species by reducing the abundance of lake trout, Flathead Lake, Montana.
Please read comments by Montana Fish, Wildlife and Parks on the proposed EIS along with detailed rebuttal by CSKT
Press Release: CSKT Tribal Council Recommends a Preferred Alternative
Flathead TU Comments on the Draft EIS
Montana TU Comments on the Draft EIS
U.S. Fish & Wildlife Service Comments on the Draft EIS
CSKT 2014 Implementation Plan for the Flathead Lake and River Fisheries Co-Management Plan
For more information on the plight of our native fish, read Facts About Flathead Lake and the NEPA Process
---
Glacier National Park
In addition to efforts at Flathead Lake, other projects throughout the basin are addressing the problem of invasive nonnative fish. In Glacier National Park, lake trout have invaded nine of twelve lakes on the west side of the park and have placed important native fish populations at risk. In several of the infested lakes, the native bull trout populations are in imminent danger of extinction.
The Park Service is charged with protecting native species in our national parks for the enjoyment of future generations.
"It's a huge ecological health issue," said Clint Muhlfeld, a Glacier-based fisheries scientist with the U.S. Geological Survey. "A lot of the populations are functionally extinct in the park right now."
Glacier National Park has taken on the large job of protecting and restoring its remaining native fish populations. In 2009, they began a project of gillnetting lake trout in Quartz Lake and recently released a plan to add a restoration effort on Logging Lake. Flathead Valley Trout Unlimited is fully supportive of this effort. Follow the links below for more information on these and other projects by the National Park Service to protect the genetic integrity of our native species.
Preservation of Threatened Bull Trout in Glacier National Park.
Char Wars  MSU scientists wade into fight against invasive lake trout in Montana's national parks Large-Scale Removal of Lake Trout in Quartz Lake – Environmental Assessment Environmental Assessment for Continued Lake Trout Suppression on Quartz Lake & Lake Trout Removal and Bull Trout Conservation in the Logging Lake Drainage.
---
Swan Lake  and Swan River Native Fish Restoration Efforts
Swan Valley Bull Trout Working Group
2015 Summary Report (pdf)
2014 Summary Report (pdf)
2013 Summary Report (pdf) – From Montana TU
2012 Summary Report (pdf)
---