Announcement:
We use our current email list to alert members of important events or news about our FVTU chapter activities. Lately we have been getting a lot of bounced emails, mostly for invalid email addresses. If you have changed your email address in the last year or so, or feel that you have not been getting our regular email announcements, please contact flatheadtu@gmail.com, or dylan@flatheadtu.org with your current email address. We will try to keep our list as current as possible. You can also use this address to let us know if you would prefer to not receive information via email. Thanks for your help.
---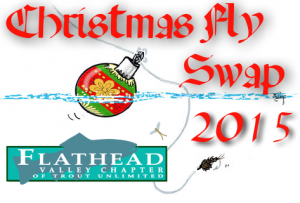 Time to sign up once again for the ever popular and exciting FVTU CHRISTMAS FLY SWAP! Each year at our Christmas Social, a group of some great fly tiers get together and exchange flies and lies. To sign up, or get more information, go to the Christmas Fly Swap SIGNUP PAGE
---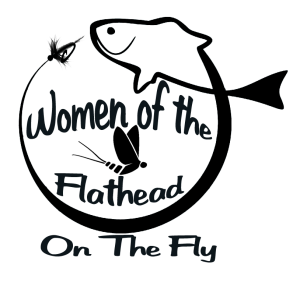 Don't forget to join Women of the Flathead on the Fly for their monthly fly tying night on the second Tuesday of each month through the winter. The next get together will be Dec. 8 at the Kalispell Brewing Company in downtown Kalispell.
---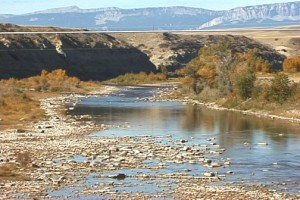 | | |
| --- | --- |
| | Drought Tips for Anglers from Montana Fish Wildlife and Parks |
Fish will feel the stress caused by low flows, higher water temperatures and competition for space and food.  Low water conditions in spring and fall can cause spawning failures and increased predation on young fish.   Also, fish will "group up" to take advantage of pools where the water is deeper and cooler — making them more vulnerable to anglers and predators.  If conditions worsen, fish are lost to stress from the higher water temperature, lower oxygen levels, and reduced resistance to disease.  These threats can impact adult trout numbers in future years.
To help preserve a threatened fishery anglers can:
Fish in the cool morning hours — low water flow and rising temperatures combine to stress fish.
Try another location, if water is low at a favorite fishing spot.
Be alert for fishing closures on streams hardest hit by drought.
Work with water users to try to conserve flow.
Report fish kills to the local Fish, Wildlife & Parks office.
Anglers who practice catch-and-release fishing can minimize the stress they place on fish:
Use barbless hooks.
Land fish quickly once they are hooked.
Keep fish in the water as much as possible while handling them.
Limit the amount of time fish are handled.
Wet hands before attempting to remove the hook.
Handle fish gently.
Take care not to touch a fish's gills.
On streams experiencing extreme drought conditions and high water temperatures anglers may want to avoid catch and release fishing as it is difficult for trout to recover under these conditions.
Get all the latest Restrictions, Closures & Reopenings from MFWP
---
From the FVTU Press Release
Wednesday, June 29, 2015
Kalispell, MT.  Anglers, hunters, and scientists in northwest Montana are expressing concern over proposed clear cutting projects near Glacier National Park's northern border, in British Columbia's portion of the North Fork Flathead River watershed.
The North Fork Flathead watershed flows in both British Columbia and Montana. It has been the focus of decades-long international agreements to protect it from inappropriate development. In particular, the Canadian portion of the Flathead provides much of the spawning habitat and clean water for bull trout in Flathead Lake, as well as being a stronghold for native cutthroat trout.
Conservationists support sustainable logging in the North Fork drainage, following modern "best management practices" that balance logging with conserving clean water, fish and wildlife.
However, observers on both sides of the border are concerned that logging planned in the BC portion of the Flathead falls well short of modern standards.
Two companies, Jemi Fibre and Canfor, hold privately owned forestland or lease government "crown" land within the watershed.
Jemi recently purchased 130,000 acres in the Flathead and Kootenai watersheds. Canfor holds the area's provincial crown timberland under a license "tenure" agreement.
Jemi's holdings include approximately 10,000 acres of Sportsmans Ridge, encompassing Foisey and McLatchie creeks, both major tributaries of the North Fork Flathead.  According to USGS fisheries biologists, 30-40 percent of all bull trout spawning occurs just downstream of these tributaries.  Bull trout are listed as threatened under the Endangered Species Act in the U.S.
Just over the ridge, the Lodgepole and Wigwam rivers contain some of the highest densities of bull trout redds (egg nests) anywhere for this imperiled species.
"The North Fork native trout fishery is special for Montana, British Columbia, and both Canada and the United States," said Larry Timchak, Chapter President of Flathead Trout Unlimited. "Locals have helped bring about international pressure to stop inappropriate coal mining, and it looks like we need international pressure to make sure logging is done appropriately. If Jemi logs these creeks as they've logged in other forests they own, the Flathead is in real trouble."
Jemi has not produced any environmental review whatsoever for their proposed cut on Sportsmans Ridge and is not required to provide any public plan before logging begins.
[Read the entire press release HERE]
Contact:  :  Lucky Sultz, Flathead Trout Unlimited. 406-755-2920, lucky@flatheadtu.org or Chris Schustrom, Flathead Trout Unlimited (406) 260-1198 chris@flatheadtu.org
---
Catch and Release – It only makes sense
Flathead Valley Trout Unlimited produced the following short video public service announcement on proper Catch and Release techniques.

If you would like to use this video in either 30 or 60-second versions, you can download the following files;
If you would like HD versions of either video, please contact Flathead TU
---
Illegal Introductions: Stupid people do stupid things.
Whether it is Smallmouth bass in Seeley Lake, Walleye in Noxon Reservoir and Swan Lake, Perch in Rogers Lake, or Northern Pike in the Stillwater Lakes, illegal fish introductions in Montana's waters do irreparable harm to our state fisheries. Montana has documented 600 illegal introductions of fish in 300 of Montana's waters. More than 25% of those incidents have occurred in the past 10 years. Recently, Montana Fish, Wildlife and Parks introduced new rules for dealing with unlawful bucket biology. Offenders are now liable for a fine of $2,000 to $10,000 and can be made to pay the cost of remediation, which can run to hundreds of thousands of dollars.
The new rule requires FWP to investigate reports of unauthorized fish plantings within 30 days of learning about them, followed by an action plan to deal with the introduction. Flathead Valley TU supports the intent and implementation of these new rules and encourages the public to be aware of illegal actions that can drastically hurt our fishing opportunities. A recent article in the May-June issue of Montana Outdoors Magazine highlights the damage that these stupid people are inflicting on our precious fisheries resources.
Montana Trout Unlimited along with its affiliated statewide chapters have offered a reward of up to $10,000 for the arrest and conviction of anyone illegally dumping fish into our waterways to help stem the increasing tide of illegal introductions. Along with the TU reward, other angling organizations have put up an additional $4,200 and the Montana TIP-MONT program will chip in another $1,000. Altogether, you could be eligible for more than $15,000 for your help in catching and convicting unlawful bucket biologists. The money will be available through  FWP's TIP-MONT program
"Ten thousand dollars is a lot of money, but when you consider lost fishing opportunities, economic cost to local communities and the cost of getting rid of invasive species, this is an important investment," said Montana TU Conservation Director Mark Aagenes.
It's time to get tough on those few jerks who think they can better manage our fisheries through unlawful actions than can our professional resource managers. These selfish folks need to understand that there are serious consequences to their actions. Please support the new bucket biology rules by reporting these criminals.
---

Flathead Valley Trout Unlimited is currently supporting the Confederated Salish and Kootenai Tribes in their effort to reduce the overabundant population of lake trout in Flathead Lake in order to benefit native fish species and enhance the fishery in the Flathead River system. The CSKT published a final Environmental Impact Statement on their plan to suppress the lake trout population in Flathead Lake using a variety of methods and strategies that support the Co-Management plan developed by CSKT and the Montana Department of Fish, Wildlife and Parks.
Read the CSKT Final EIS: Proposed Strategies to Benefit Native Species by reducing the abundance of lake trout, Flathead Lake, Montana.
Please read comments by Montana Fish, Wildlife and Parks on the proposed EIS along with detailed rebuttal by CSKT
Press Release: CSKT Tribal Council Recommends a Preferred Alternative
Flathead TU Comments on the Draft EIS
Montana TU Comments on the Draft EIS
U.S. Fish & Wildlife Service Comments on the Draft EIS
CSKT 2014 Implementation Plan for the Flathead Lake and River Fisheries Co-Management Plan
For more information on the plight of our native fish, read Facts About Flathead Lake and the NEPA Process
---
Glacier National Park
In addition to efforts at Flathead Lake, other projects throughout the basin are addressing the problem of invasive nonnative fish. In Glacier National Park, lake trout have invaded nine of twelve lakes on the west side of the park and have placed important native fish populations at risk. In several of the infested lakes, the native bull trout populations are in imminent danger of extinction.
The Park Service is charged with protecting native species in our national parks for the enjoyment of future generations.
"It's a huge ecological health issue," said Clint Muhlfeld, a Glacier-based fisheries scientist with the U.S. Geological Survey. "A lot of the populations are functionally extinct in the park right now."
Glacier National Park has taken on the large job of protecting and restoring its remaining native fish populations. In 2009, they began a project of gillnetting lake trout in Quartz Lake and recently released a plan to add a restoration effort on Logging Lake. Flathead Valley Trout Unlimited is fully supportive of this effort. Follow the links below for more information on these and other projects by the National Park Service to protect the genetic integrity of our native species.
Preservation of Threatened Bull Trout in Glacier National Park.
Char Wars  MSU scientists wade into fight against invasive lake trout in Montana's national parks Large-Scale Removal of Lake Trout in Quartz Lake – Environmental Assessment Environmental Assessment for Continued Lake Trout Suppression on Quartz Lake & Lake Trout Removal and Bull Trout Conservation in the Logging Lake Drainage.
---
Swan Lake  and Swan River Native Fish Restoration Efforts
Swan Valley Bull Trout Working Group
2014 Summary Report (pdf)
From Montana TU 2013 Summary Report (pdf)
2012 Summary Report (pdf)
---